Welcome to my My Little Pony Site! This is a site about cute little toy ponies that became one of the most popular toys in the eightees. I used to play a lot with MLP when I was a little girl, and now I want to share with you some information about those little cuties.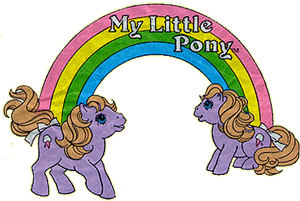 I have tried to collect information about My Little Pony from the earlier eightees when they first came to Sweden. All the information is specific for Sweden, where I live, and the ponies are the Swedish versions. This means that looks and names of the ponies may be different from other countries. Some of the pony breed names has been translated directly from Swedish so they might also differ a little.

If you live in SWEDEN and want to sell ponies, SEND ME A MAIL!!! I am interested in buying and will pay all transportation costs!